Reading and understanding your insurance policy can be confusing, but it's important knowledge to have. One of the best ways to ensure you have a full understanding of your insurance coverage is to review your policy's insurance declaration page.
Your insurance declaration page, or insurance dec page, is a 1-2 page document that contains an overview of your insurance policy. The declaration page lists vital information you need to know, so you can stay in the loop and find important policy details at a glance.
What Information is Found on the Declaration Page?
Because the insurance declaration page is specific to your policy, you'll have one for each policy you purchase (home, auto, etc.) and the dec page will be updated with every policy change or renewal. Here's what you can expect to find.
Homeowners, Renters, and Condo Insurance Declaration Page
Your home insurance declaration page will list high-level information about your insurance coverage. At Main Street America, your homeowners, renters insurance, or condo declaration page includes this information as outlined below.
Policy effective and expiration dates
Your agent's contact information
Any recent changes made to your policy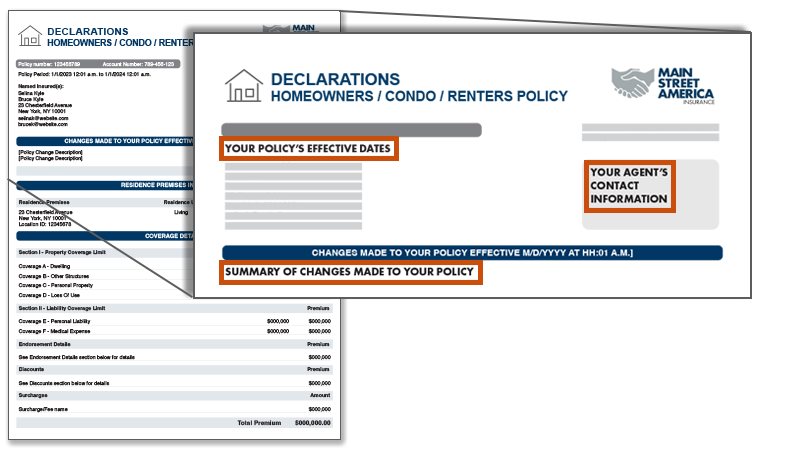 Which property location is covered
Your chosen coverages and limits
The amount of your

 

deductibles

 

and

 

premiums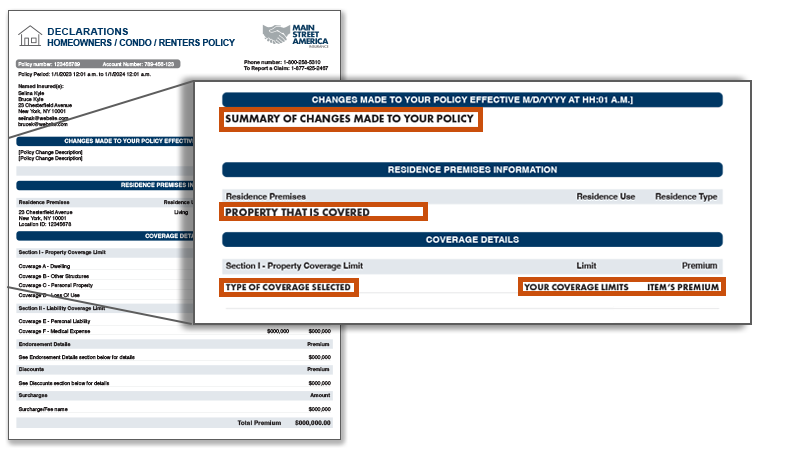 Any discounts applied to the policy
Total premium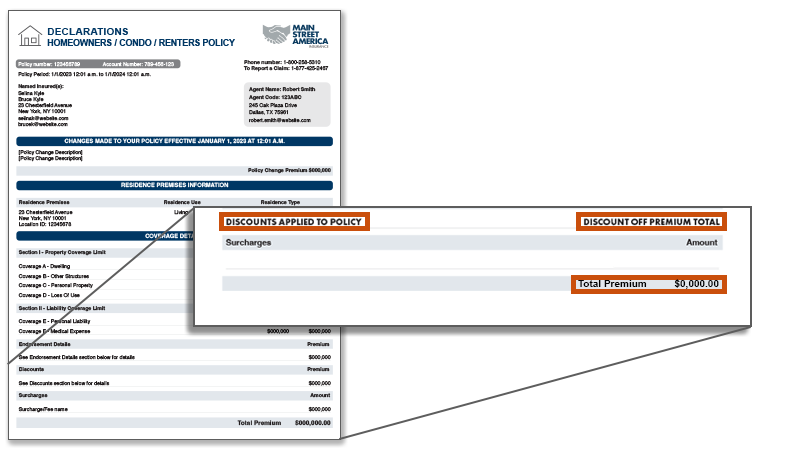 Auto Insurance Declaration Page
Your auto insurance declaration page lists basic policy and coverage information including:
Coverage effective and expiration dates
Agent contact information
Which vehicles and drivers are covered
Your chosen coverages (like

 

comprehensive

 

and collision or personal injury)
Your coverage limits
The amount of your deductibles and premium
Any discounts applied to the policy
Lienholder, if applicable
Remember — your declaration page is only a summary of important policy information. You will need to review the full policy document or speak with your independent insurance agent to go over the details of your coverage.
Who is Listed on the Declaration Page?
Your declaration page will list the name of the insured(s) and, in some cases, third-party people or businesses associated with your coverage. For example, the mortgagee (the bank or lending institution that issues the mortgage loan) or a co-owner who lives somewhere else but is listed on the deed can be listed on your homeowners insurance declaration page. For car insurance, the loss payee on an owned vehicle or the additional insured for a leased vehicle will be listed on the dec page.
Is the Declaration Page Proof of Insurance?
In most cases — especially when loans are involved — you will be required to provide proof that you've obtained an insurance policy. For example, your mortgage lender will require proof of insurance before you can close and move into your new home.
Fortunately, obtaining that proof is easy. Your insurance declaration page contains all the information you need to prove that you have the proper coverage in place and works as proof of insurance in most situations. Simply send your declaration page to your lender or property management company and you'll be good to go.
Where to Find Your Declaration Page
Your declaration page is included with the rest of your policy documents and sent any time a policy is issued, renewed or endorsed. All you have to do to find it is:
Sign in to

 

your online account
Access your policy documents
Look for the document labeled

 

Declaration Page
If you're having any trouble accessing your account or finding the right information, contact your insurance company or independent insurance agent for help.